castor and pollux, take ii
a beautiful uruguay drusy agate - champagne and brown sugar collide. two twin 14k yellow gold satellites orbit the fine and sterling silver ring.
a wide, size band comfortably fits a us7.5 to us8 size finger. the stone is approximately 19mm x 33mm.

CRYSTAL QUARTZ is one of the most complete gems because it acts aligning all chakras and all bodies. Very useful to expand the states of consciousness and to improve memory, and promotes health and longevity. quartz druzy energizes and stabilizes both body and aura and promotes creativity. Drusies are known to give light and joy to the environment. Increases feeling of security as well as reduces exhaustion.
sold.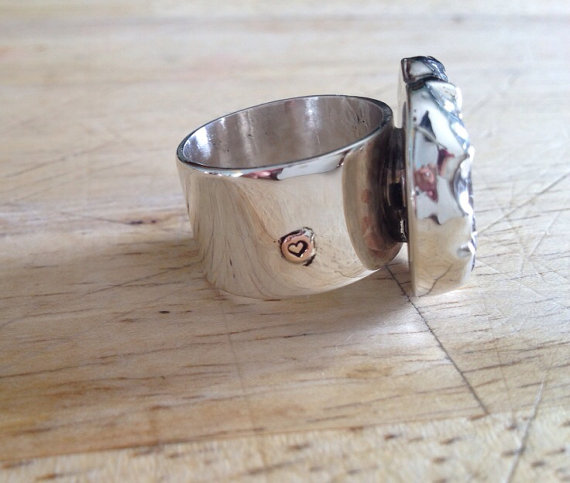 beautiful amethyst agate stalactite slice druzy cocktail ring
truly one of a kind such a beautiful slice of amethyst agate stalactite, mined in Uruguay. the amethyst crystals surround a heart shape agate - completely naturally formed -- true love! the purple of the amethyst is stronger in person...everything is reflecting and it's photographing a bit muted. this is a completely one of a kind ring.
it's sterling silver, fine silver setting and the dots are one 14k yellow and two 14k rose gold details - hearts are stamped onto the rose gold accents, a star is stamped onto the yellow gold accent.
the gem is so very unique, and so very lovely. it is a size 8 to 8.5 and can not be resized. if you love it and it's not a size that works for you, we can look for a similar style stone and do something custom. i have not seen another heart shaped amethyst agate druzy...but there are some crazy beautiful stones out there!!
shipping as listed for us domestic priority mail only. please contact us for international shipping prior to ordering.
xoxo coco
sold.
a seduction in water
The most tremendous aquamarine. Simply set for endless hand gazing meditation.
the stone is approximately 46mm x 27mm at the widest points. the sterling band is a open double U - modern and solid, without feeling restrictive. exceptionally comfortable. size 7.5us.
aquamarine has a soothing and sedative effect and as the water promotes adaptation, eases feelings of rigidity and inflexibility. It is very useful for people who have great mental activity and difficult to disconnect the outside world, as it frees us from physical and emotional toxins. It is also very useful for people who have communication problems because it stimulates creative expression. Helps to improve mood, increase hope, optimism and inspiration.
In the symptomatic acts on the immune system. It also has a purifying effect, helps the lymphatic system and improve adrenal disorders. It is very beneficial to the hormonal system.
Third and fifth chakra. Good for Cancer, Scorpio and Pisces.
sold
sumatra carnelian ombre
soothing waves of creams and soft oranges. the stone is 39mm x 29mm. the sterling band is a open double U - modern and solid, without feeling restrictive. exceptionally comfortable. size 7.5us.
sumatra carnelian banded agate is an excellent stone when someone feels emotionally and physically exhausted, because it helps us regain physical strength and increases the willingness to solve difficult situations. Its vibrations are smooth, pleasant and soothing, and when we hold in hand and admire its equilibrium and plasticity noticed how our feelings and thoughts are soothed. For such is very useful to stimulate the creative spirit and increase self-esteem, and to prevent feelings of envy, spite, resentment and guilt. It also brings dynamism and vitality, creating vital drives and accentuating the optimism and joy Good for Virgo, Taurus and Capricorn. Fifth chakra
sold